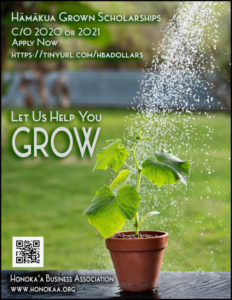 "Let us help you grow!"
The Honokaa Business Association is excited to invest in our local students by helping to fund educational opportunities for graduates wanting to continue their education after high school. The Honoka'a Business Association (HBA) has over $3500 to award to seniors who graduated in 2020 or will graduate this year, and are enrolled at Honoka'a High School, Laupāhoehoe Community Public Charter School (LCPCS) or are home-schooled students who live in the Honoka'a High School and Laupāhoehoe districts.
The online application can be found at: https://tinyurl.com/hbadollars
The Honoka'a Business Association is a volunteer organization that includes business owners and individuals. We strive to improve the economic prosperity of the region by focusing on appreciation of the cultural and natural resources of the area and providing a local support network to empower the community's well-being. The next generation is a critical part of the community and a rich resource for future development. To that end the HBA enthusiastically invests in the next generation and our community with an array of scholarship awards.
The HBA Evelyn Andrade Scholarships, which are worth $1500 in total, are awarded to students who show strong motivation to pursue their dreams through continuing their education, who demonstrate accomplishments in their lives to date, and who have thought carefully about how they will finance their education.
The Kulia i ka Nu`u scholarship is an award for $500 made possible by community member Jeannette Soon-Ludes of Haumana Consulting. Haumana Consulting advises colleges and non-profits on issues at the intersection of equity and education. The award is given to a student who is dedicated to striving for excellence and demonstrating the value of community service.
The Honoka`a Business Association Community Affirmation scholarship, worth a total of $1000, is awarded to a student, or divided among students, who are deemed likely to benefit from knowing the community supports their dreams and success. It is the "We Believe in You" award and is funded by community members.
A new award for 2021 is the Chef Tiny Culinary Scholarship. Made possible by Chef Mario (Tiny) Gonzales this $500 award will go to a student interested in pursuing a future in the culinary arts.
From the Hamakua Youth Center comes the HYF Disney Scholarship for a $250 award which will be given a Honoka'a High School student who is motivated to succeed.
The Honoka'a Business Association is very proud to offer financial aid as well as recognition and affirmation to our students. Additionally, these awards represent community members and organizations collaborating and sharing resources for an outcome all can agree on- the best future possible for our youth.
The Honoka'a Business Association welcomes contributions from community members and organizations to support our scholarship efforts. Please mail checks to HBA at P.O. Box 474, Honokaa, HI 96727 or email honokaabiz@gmail.com